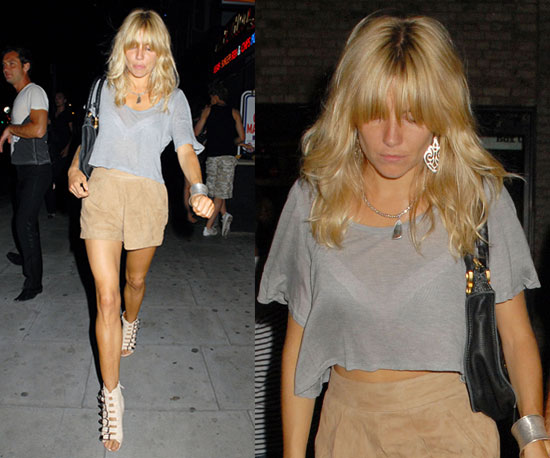 A Sienna Miller é uma das minhas Fashion Icons favoritas,e fazendo agora parceria como designer da marca "Twenty8Twelve",com a sua irmã Savannah,não tenho dúvidas do seu sucesso na Indústria de Moda.
Shorts: TopShop em camurça
$135.00
Wedge Boots: Topshop Anarchy Multi Buckle Wedges
$160.00
Top:
Boutique to You : KAiN Label Crop Tee $83
Colar: Yoox Anthracite Necklace $149
Bracelete: J. Hill Hammered Silver Cuff $32
Brincos:
Aldo Ponsler
$10.00
Bag: Nordstrom
Dolce&Gabbana 'Miss Sicily with Lace' Handbag $1672

Pessoalmente....adoro as peep-toe boots.

Para adoptar um visual similar,basta adquirirem um modelo de shorts em camurça Zara,um simples tank top h&m ou Zara,e na Asos.com existe um modelo similar às peep-toe boots por um preço bastante mais convidativo.